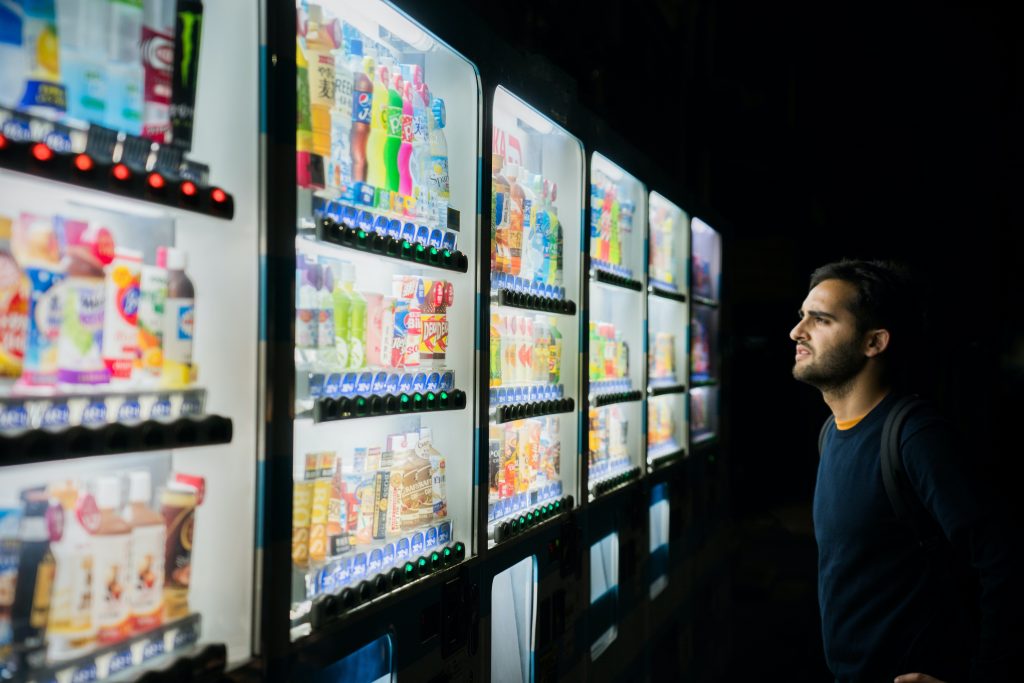 Top 50 Craziest Drinks Sold in Japan
Thirsty? Try washing down your next meal with some of these oddities.
Oh come on! Don't play it safe and only go just go for a Coke or Pepsi. You're in Japan now. It's time to try something more adventurous.
Vending machines mainly for carbonated drinks started appearing across the country in 1960. Now there are an estimated 2,470,000 of them throughout Japan or 1 for approximately every 50 people. Thus, it is easy to grab either a cold or hot drink virtually anywhere in the country on a 24/7 basis.
While the same global players such as Coca-Cola and national powerhouses in the beverage industry like Suntory do, in fact, dominate distribution via vending machines and other channels, relatively obscure minor entrants have still managed to carve out a niche with several unique offerings. Even the big boys have become used to granting a creative license to their marketers to go well beyond normal colas.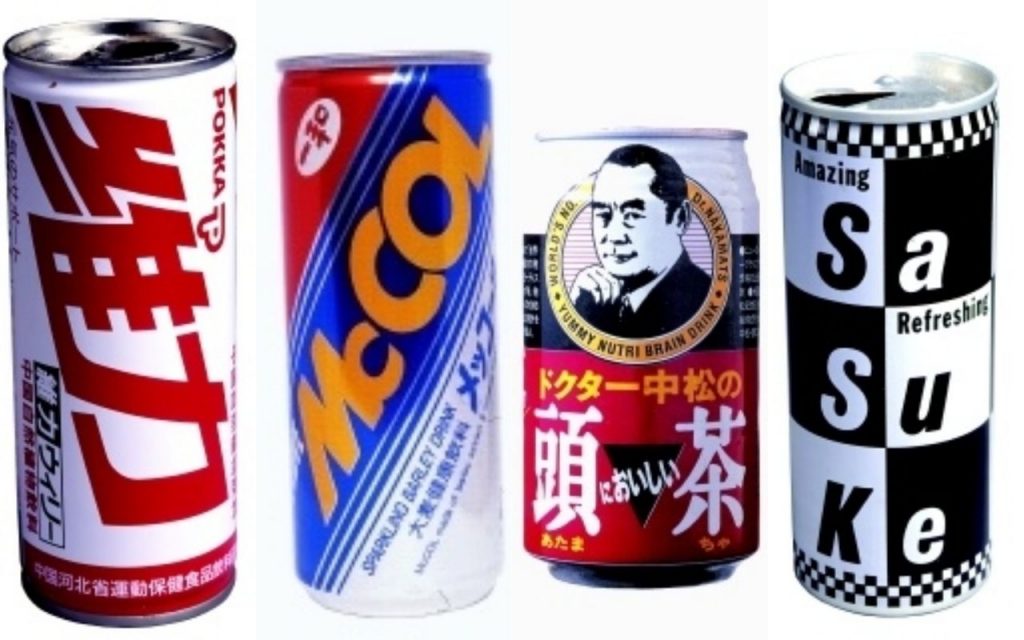 The sheer variety of beverages—both non-alcoholic and alcoholic—available in Japan is staggering. To make sense of it all is soft drink critic Ryoko Shimizu (aside–now that's a cool job!). She has been reviewing the world of non-alcoholic Japanese beverages since the 1980s. Shimizu recently published a Top 50 list of her all-time favorites (the original article in Japanese only).
…but wait! First you need to know this.
What's a supodo?
Supodo (スポド) is an abbreviation for the made-up English term "sports drink" in Japanese. This category is a type of soft drink that replenishes the water and minerals lost from the body due to perspiration, especially during exercise. It supposedly helps to prevent dehydration and the potential for heatstroke while playing sports under the scorching sun.
Top Fifty
Okay, now that this term has been defined, let's get to Shimizu's extensive list which includes plenty of supodo as well as other types of drinks!
Not all of her favorites are still around, but, despite humble beginnings in some cases, a surprising number have since gone mainstream. Scroll down to see how Shimizu ranked them by counting backward from 50 down to 1:
#50 Sports Mugicha
Sports Mugicha sold in the 1990s by Kanebo: Shimizu wrote, "When I first heard the name of this drink, my first impression was that it must be a blend of traditional barley tea and a 'sports drink.' It consists, in fact, of a combination of an appropriate amount of salt mixed with regular barley tea to enhance its absorption into the body. The can was decorated with a theme from the professional baseball team Yokohama BayStars."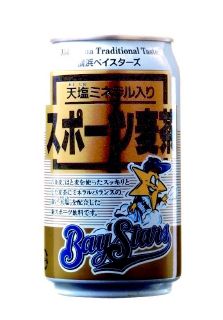 #49 Mountain Dew
Mountain Dew launched in 1981 by Pepsi Co: This long-seller, which is still popular today, is marketed in Japan with the tag line "new citrus beverage." The package has changed little over the years.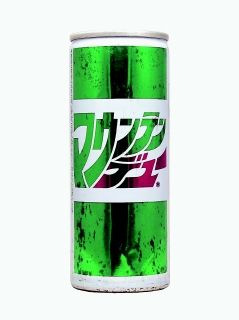 #48 Tab Clear
Tab Clear launched in 1993 by Coca-Cola: Shimizu commented, "It became a hot topic because it was a transparent cola, but I remember that it was subtle in terms of taste. Kotaro Tawara, a popular newscaster at the time, appeared in a commercial."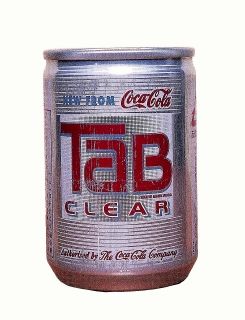 #47 Tsubu-Tsubu Orange
Tsubu-Tsubu Orange was sold in the 1990s by Yamato:  This orange drink was conceived based upon the trend of mashed fruit drinks in the 1980s.  "Tsubu" means "bead" or "drop" in Japanese.  When it was launched, Tsubu-Tsubu Orange lacked national distribution.  It was only marketed locally in Nagoya, near where it was made.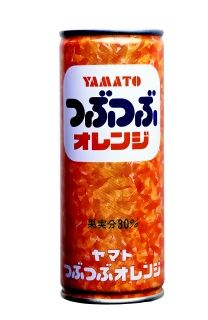 #46 Post Water
Post Water launched in 1990 by Kirin: Made from lychees, this supodo or "sports drink" made quite a scene when it debuted in an unusually-shaped flask.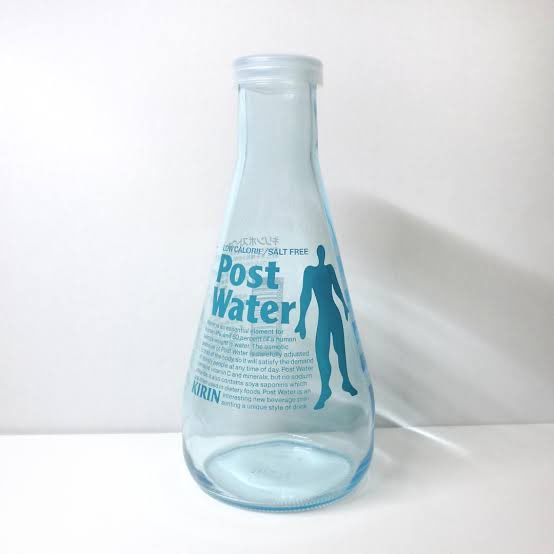 #45 Cheerio Grape
Cheerio Grape launched in 1965 by Cheerio: Shimizu fondly recalls Cheerio's Grape drink as being for sale at the candy store near her childhood home.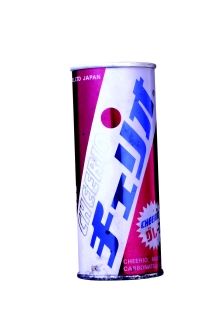 #44 J Water
J Water launched in 1993 by Suntory:  This drink made its debut as an officially licensed beverage of the J League or Japan Professional Football (soccer) League back when J League was new.  This "sports drink" did not have a particularly distinctive taste, but the taste was secondary to packaging in any case.  There are also team-specific variants.
#43 Ambasa
Ambasa launched in 1982 by Coca-Cola:  Shimizu commented, "I felt a little  uncomfortable with the unfamiliar word 'Ambasa' at first, but I quickly got used to it because it was put into virtually every Coca-Cola vending machine."  This carbonated beverage looks milky and tastes lighter than Calpis Soda.  There were also melon and pine flavors for a while.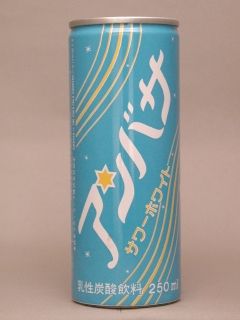 #42 Apple Oolong Soda
Apple Oolong Soda launched in 1988 by Kirin:  This is another drink that relies primarily upon packaging to drum up sales.  It features characters from the anime Modern Children (いまどきのこども), which attracted a lot of attention when launched. It is still fairly popular.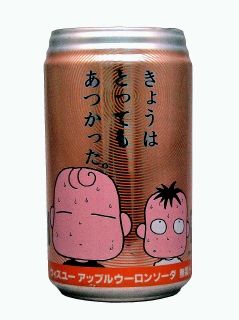 #41 Sweet Kiss
Sweet Kiss launched in 1982 by Cheerio:  Sweet Kiss is sort of a variant of Mountain Dew (#49) and features a distinctive graphic design.  It is, however, still relatively difficult to find this drink even in Tokyo.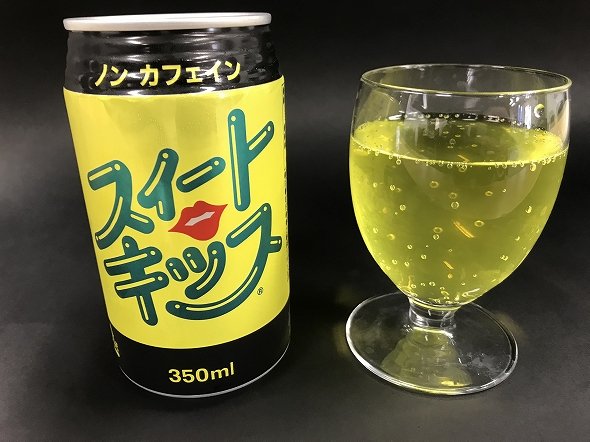 #40 Saruo Monkey King
Saruo Monkey King launched in 1994 by Lotte:  The name Saruo literally means "monkey king" in Japanese.  It was originally marketed as an exclusive type of oolong tea made from tea leaves grown on cliffs where monkeys like to forage food.  There is, naturally, some question about whether monkeys actually harvest tea leaves.  One of the respondents reportedly remarked in a taste test, "It sort of smells like a monkey."  Luckily for the brand, there are, however, plenty of other people who disagree!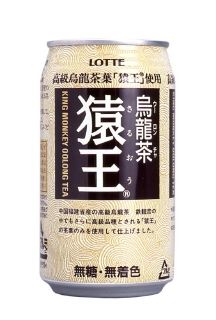 #39 Afternoon Tea
Afternoon Tea launched in sold in 1986 by Kirin:  This drink is a best selling long-runner.  It is fairly sweet and was the first black tea sold in a 1.5 liter PET bottle.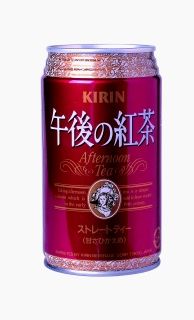 #38 Bireley's Orange
Bireley's Orange launched in 1951 by Asahi:  The name of this ultra-long-runner, "Birely's," used to be synonymous orange juice. Since the 1970s, when restrictions were introduced that limited marketers' ability to label a drink as juice unless it was 100% juice, Birely's had to drop the reference to juice.  This minor setback did, however, not make a major dent in its market share. The brand is still sold today.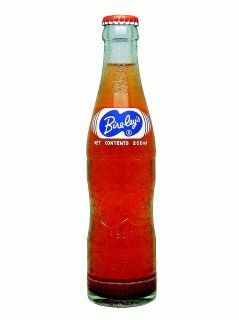 #37 Hokuriku Soda Godzilla Matsui Can
Hokuriku Soda Godzilla Matsui Can launched in 1997 by Soka Komatsuen:  This is a locally produced drink made to help immortalize the famous baseball player Hideki Matsui who was also a "favorite son" of Ishikawa Prefecture.  Matsui, whose nickname was "Godzilla," was a home run king who went on to play for the New York Yankees.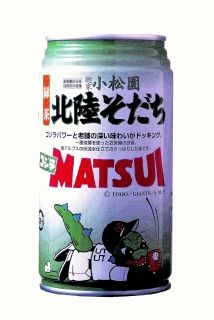 #36 Honey Lemon
Honey Lemon launched in 1986 by Suntory:  This fruit drink experienced explosive sales upon its release.  Suntory had a problem, though.  As they could not register a trademark for "honey lemon" or even its nickname in Japanese hachi-lemo, this particular name essentially became its own category because several other manufacturers flooded the market with similar drinks by the same name.  It is a classic example of just how cut-throat the non-alcoholic drink industry can be in Japan.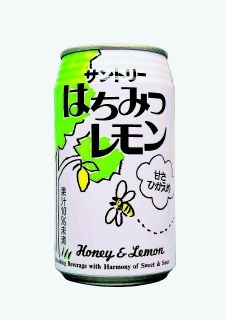 #35 McCOL
McCOL launched in 1982 by MMC: This collector's item has long since been taken off the market. It was, apparently, relatively hard to find even when it was available through the mid-1990s. McCOL was marketed as "barley cola," but it looked just like any other cola. The taste was a combination of barley tea and cider.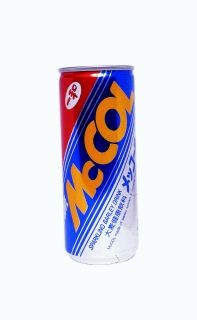 #34 TESS Milk Tea
TESS Milk Tea sold in the late 1980s by Suntory: TESS had a relatively short lifetime as a semi-sweet type of milk tea.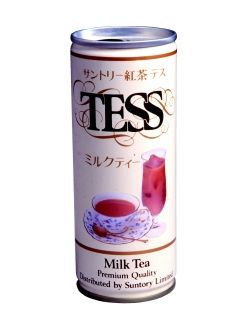 #33 NCAA
NCAA launched in 1981 by Suntory: Named for the National College Athletic Association (NCAA), this classic sports drink was introduced as "the brand new thirst quencher for those who love sports."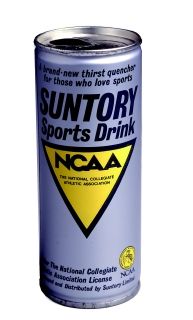 #32 Atamaruko
Atamaruko launched in 1990 by Suntory:  This citrus mixture of kumquats and calamansi (aka "Philippine lime") was actually sold hot in the heated section of vending machines. Its name means, in fact, "A Child to Warm You Up."  The cute package design proved effective at attracting customers.  It actually led to a second-generation character called "Nacchan" that became even more famous than Atamaruko, who was relegated to the status of "the unknown older sister."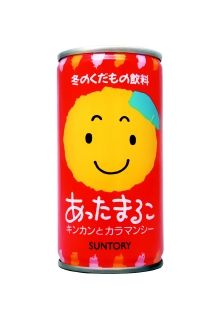 #31 Gatorade
Gatorade sold in the 1980s by Yukijirushi:  Having been replaced by homegrown rival Pocari Sweat, American uber-brand Gatorade is no longer sold in cans in Japan. It was, though, the first "sports drink" to appear in Japan.  At that point, Gatorade was only available as a powder.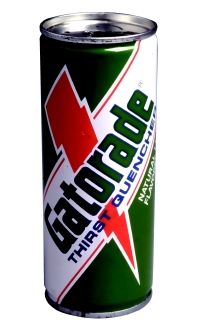 #30 Dr. Nakamatsu's Head Tea
Dr. Nakamatsu's Head Tea launched in 1994 by Cheerio:  Now we're entering the realm of the truly odd.  Named for Dr. Yoshiro Nakamatsu, a leading researcher of "smart foods" at the time of launch, this strong blended tea was somehow supposed to enhance cognitive capability.  Years later, the same Dr. Nakamatsu gained additional notoriety outside Japan by winning the "Ig Noble Prize" in 2005.  This satiric prize is awarded to ten trivial achievements in scientific research.  Its stated aim is to "honor achievements that first make people laugh, and then make them think." Hmmm…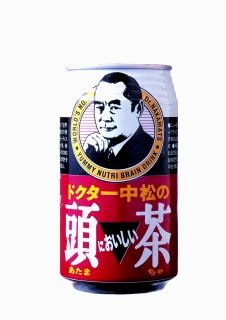 #29 Pekoe Straight Tea
Pekoe Straight Tea launched in 1993 by Suntory:  The successor to TESS (see #34), Pekoe was marketed with a cute design, which was also adapted into a popular television commercial.  In it, a schoolgirl girl dances to a song with the story of Mother Goose as the lyrics.  It was intended to get young women to take pictures posing with a can of Pekoe.
Elements of this design are still evident in the packaging, even though Suntory sold this brand to rival Lipton Tea in 2001.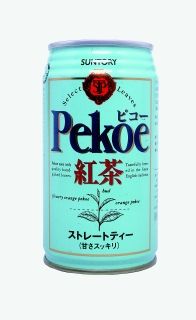 #28 Banana Cola
Banana Cola launched in 1990 by Takara:  Shimizu candidly admitted being attracted by the packaging.  She only purchased a single can once, though, as it ended up tasting just as bad as it sounds. This was, after all, a banana-scented cola.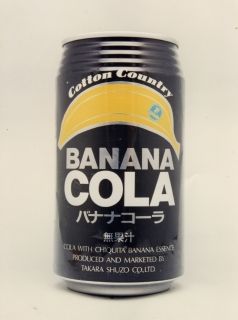 #27 Mitsuya Cider
Mitsuya Cider launched in 1972 by Asahi:  The history of this ultra-long-runner dates back to the Meiji Era in the 19th century.  This particular bottle design dates from 1972 and is still in use today.  It is sort of like a reusable beer bottle.

#26 Pudding Shake
Pudding Shake launched in 1991 by Pokka:  Now we're getting into the "Weird & Wonderful."  This "drink" is still sold in a can to this day.  It is actually comprised of pudding, which needs to be shaken and mixed with liquid syrup before you can drink it. Pokka merged with Sapporo back in 2012, which led to a significant reduction in Pokka SKUs. The Pudding Shake still has a sizeable base of diehard fans who help to keep the brand alive.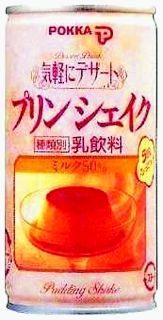 #25 Co-up Guarans
Co-up Guarans launched in 1960 by Ohara:  This rare carbonated drink is made under a unified trademark by a cooperative of small to medium-sized regional beverage manufacturers to compete with colas manufactured by major companies. The pictured bottle was made by a beverage manufacturer in Hakodate, Hokkaido.  It was produced by "Ohara" and came in a 500ml bottle. It seems that middle and high school students in Hakodate used to drink this large bottle all at once on their way home from club activities.  While Ohara no longer markets this particular re-usable bottle, they still sell a single-use bottle and PET bottle variants.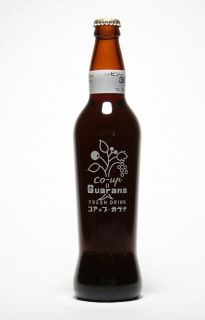 #24 Mistio Grapefruit
Mistio Grapefruit launched in 1996 by Daido:  Daido was actually ahead of its time when it first came out with Mistio, a drink that was only slightly carbonated.  Nowadays, there are lots of competitors with just a small degree of carbonation.  It came in both grape and orange versions.
However, what really helped was a popular television commercial that featured the pop singer idol Namie Amuro who simply claimed, "I consider it delicious enough to want to order it again."  Well now!  That's all it took?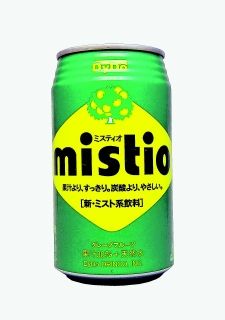 #23 Pokka Coffee
Pokka Coffee launched in 1972 by Pokka:  While there are many like it, the competition just does not have that distinctive, hand-drawn face wrapped around the can!  The face was preceded by a party scene.  It got a "facelift," so to speak, in 1999 (see the design on the right).  Re-launched in 2019 with incremental improvements, that famous mug is now in its 13 generations.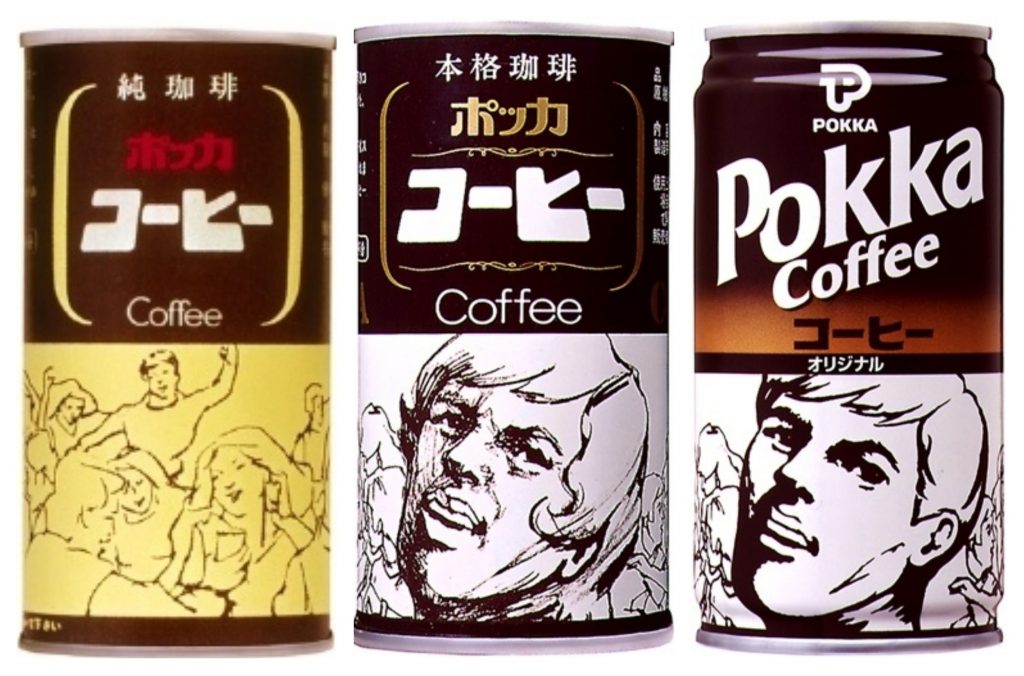 #22 UCC Coffee
UCC Coffee launched in 1969 by UCC:  This was the ground-breaking initial entrant in the canned coffee segment.  It recorded explosive sales after being sold at the Osaka Expo in 1970, a year after its release.  UCC Coffee is still the dominant player in the industry.  When it was first released, the design of the can actually incorporated two small holes, one for drinking and another for letting air out to facilitate pouring.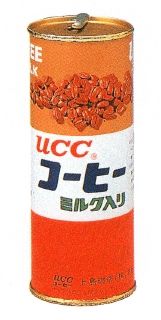 #21 Mirinda Lemon Lime
Mirinda Lemon Lime sold in the 1970s by Pepsi Co: A slightly cheaper knock-off of Fanta from Coca-Cola, this carbonated beverage is no longer sold in Japan. It can, however, still be found outside the country and on-line. Pepsi Co's trademark for Mirinda is now owned by Suntory.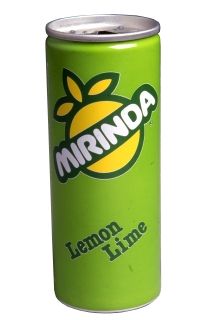 #20 Quan Foo
Quan Foo launched in 1995 by Suntory:  This carbonated drink contains Chinese herbal extracts.  It was made popular by the actor Shingo Katori, the main member of the boy band SMAP, at the launch.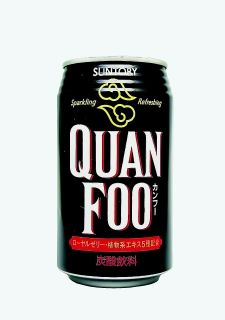 Minipops liked this commercial enough to Tweet about it last summer.
#19 Jolt Cola
Jolt Cola launched in 1990 and subsequently retired in 2001 by UCC:  Jolt Cola's decade long run was stipulated on customers noticing that they would be even more wired after drinking cola with twice the amount of caffeine as regular colas.  It turned out that expectations did not match reality for many.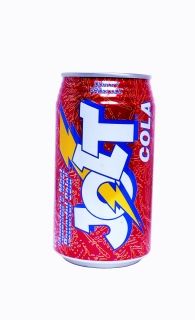 #18 With You Watermelon Soda
With You Watermelon Soda launched in 1987 by Kirin:  While no longer available in its distinctive design that looks like a watermelon, a third-generation version was relaunched in a PET bottle in 2010.  To this day, there are few competitors with the taste of watermelon.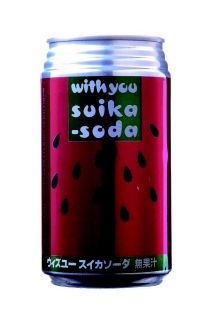 #17 Fanta Golden Grape
Fanta Golden Grape sold in the 1970s by Coca-Cola: The word is that this product was born from a production problem with the dye used to make Fanta Grape appear purple. As the technology to produce a lighter (golden) color was available, creative marketers must have frantically changed the name of the product at the last minute. This flavor was, however, phased out after Fanta Golden Apple was launched.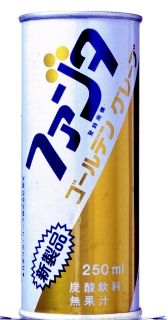 #16 + C
+ C launched in 1958 by Takeda:  + C is, essentially, orange juice, which has extra fiber content from the added pulp.  It was developed and marketed by a subsidiary of Takeda Pharmaceutical, Japan's largest drugmaker.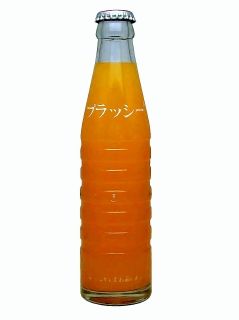 #15 Rivella
Rivella launched in 1984 by Kagome: This carbonated milky drink is imported from Switzerland by Kagome.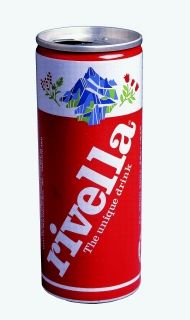 #14 Natural Peach Water
Natural Peach Water launched in 1996 by Japan Tobacco (JT): Known in Japan by its nickname "momoten," JT made quite a splash when it first launched by investing heavily in television advertising. Both this drink and its Roots Coffee brand were sold to Suntory when JT withdrew from the beverage business in 2015.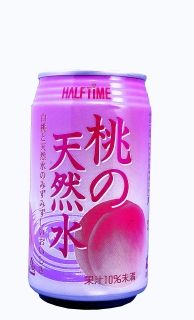 #13 Rhinoceros Cider
Rhinoceros Cider launched in 1995 by Kagome:  A play on Japanese words, the name of this drink is called "Sai-no-Cider." The homonym "sai," which means rhinoceros in Japanese, sounds like the English term cider's first syllable.  Get it? Other than the packaging, there is really nothing special about this type of cider.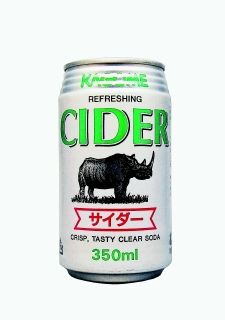 #12 B & L Bitter and Lemon
B & L Bitter and Lemon sold in the 1980s by Calpis:  This carbonated drink may have been ahead of its time and was not around for very long.  It featured the taste of bitter lemon.
#11 Nippon Cha-Cha-Cha
Nippon Cha-Cha-Cha launched in 1991 by Pepsi Co:  Shimizu was quite critical of this drink, calling it just a "very ordinary green tea."  The nationalistic packaging was, however, an interesting choice from Pepsi Co.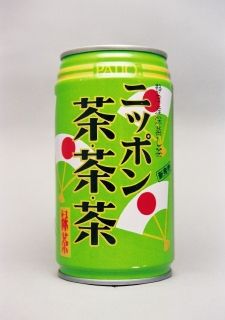 Top 10
#10 Lemon Tea
Lemon Tea launched in 1973 by Pokka:  According to the manufacturer, Pokka's Lemon Tea was the world's first canned black tea.  This particular tea was sweetened with lots of sugar, which proved to be too much for some.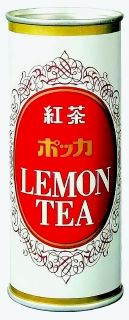 #9 Corona Pine Cider
Corona Pine Cider sold in the 1960s by Shinkoya:  A regional specialty with a now-infamous name, Corona Pine Cider was a pineapple-flavored cider produced by a traditional Japanese candy shop in Yamagata Prefecture.  It started with relatively limited ambitions as a refreshing drink for junior and senior high school students on their way home from school. Still, Corona Pine Cider subsequently achieved a loyal following beyond its humble beginnings.  Nowadays, it is, though, virtually impossible to find this drink.

#8 Jazz'in
Jazz'in launched in 1990 by Pepsi Co:  The tag line "Everybody's good adult drink" was used for marketing this "tea soda."  The idea was to balance the bitterness of tea leaves and the sweetness of soda water.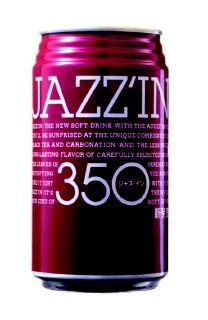 #7 TERRA
TERRA launched in 1983 by Aji-no-Moto: This "sports drink" was positioned as an amino acid-rich isotonic beverage. In addition to the normal blue, it had flavors such as apple and lemon. The cans were also designed in different colors.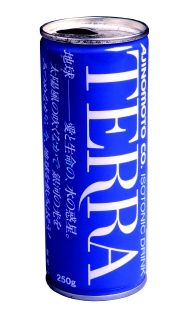 #6 Nama Mugi Nama Gome Nama Tamago
Nama Mugi Nama Gome Nama Tamago sold briefly for only "one season" in the 1980s by Kirin:  This drink, which was named for a popular Japanese tongue twister and featured an illustration of a traditional Japanese storyteller or rakugoka, was actually a milkshake.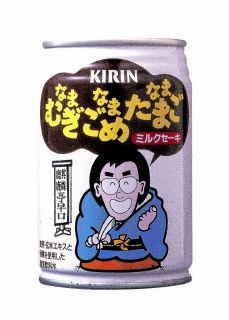 #5 Hot Blooded Drink
Hot Blooded Drink launched in 1991 by Suntory: This sports drink contained octacosanol, a natural ingredient often distilled from sugar cane that is said to help burn fat.
Its provocative name was, apparently, built around its debut television commercial.  In it, the main actor is transformed into a "hot-blooded kid" who rescues a heroine from an "evil organization" all while gulping down a Hot-Blooded Drink.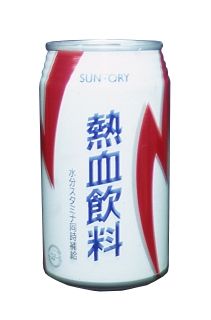 #4 Smap!
Smap! launched in 2002 by Kirin:  Nothing about this brown carbonated drink stood out in terms of taste.  It was all about the packaging.  Named for the #1 boy band at the time, Smap! was simply part of the marketing mix to sell more CDs, mostly to young women.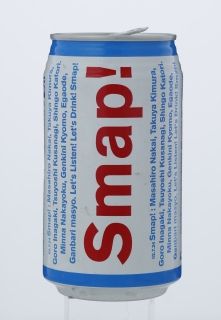 #3 Bobocha
Bobocha launched in 1994 by Pokka:  Bobocha is a blend of Chinese oolong tea leaves, Chinese Pu'er tea leaves, and sardines.  Production was supervised by Jackie Chan, who was at the height of his popularity in Japan at the time.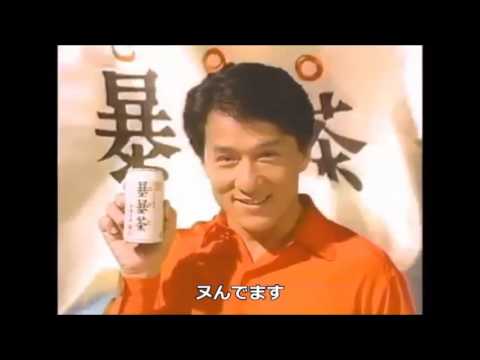 He appeared in the television commercials for this popular tea and is fondly remembered for subtly mispronouncing the Japanese term for "I'm drinking."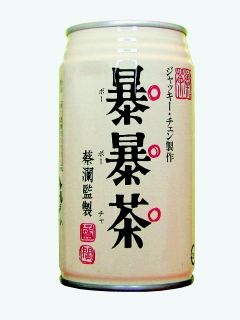 #2 Sasuke
Sasuke launched in 1984 by Suntory:  Shimizu explained that this equivalent in the world of beverages to music's "one-hit wonder" ended up being taken off the market relatively soon after boldly positioning itself "for the guy who dares to cross in front of cola."  …and here I thought it had something to do with the hit TV show featuring a fitness endurance test for amateur athletes!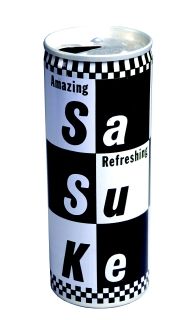 Drum Roll, Please…and the Winner Is…
#1 Weili
Weili launched in 1987 by Pokka: Originally developed in China for Chinese Olympic athletes, this legendary sports drink is Shimizu's favorite. It seems to make generations of Japanese nostalgic for the heyday of unique canned drinks just before the turn of the century.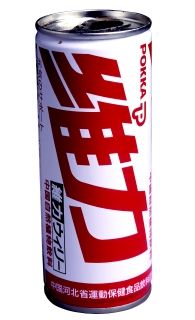 Thirsty yet?
So, how many of these do you recognize? While some are still going strong, others have long since gone by the wayside and only live on in the annals of the history of the Japanese soft drink industry.
In any case, by now you have got to be thirsty! It's time for some Bobocha (#3), a Sweet Kiss (#41), or, perhaps, a McCOL (#35). I think that I'll go scout out Mercari to snag a can of Dr. Nakamatsu's Head Tea (#30)!
Links to Japanese Sources: https://news.nifty.com/article/entame/etc/12113-930661/, https://crea.bunshun.jp/articles/-/29442, and https://matcha-jp.com/jp/7182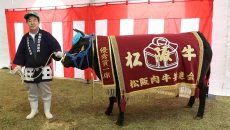 Find out where the best Wagyu Beef in Japan comes from. Don't get too hungry!
Opportunities abound to commit a major faux pas in Japanese, and the online reaction can be brutal.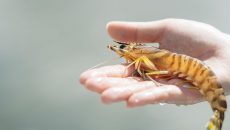 As the coronavirus rages on and everyone is told to stay at home, an odd "how to video" has achieved more than…
Menu